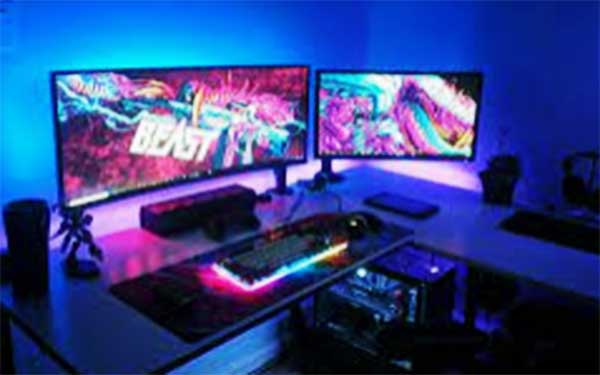 Want to know how to choosing the best gaming computer? check the following article. The progress of the game industry is currently so fast. Games are not just for entertainment, now there are games that can also be quite promising professions.
For professional gamers, of course, need the best gaming PC as a support. For those of you who are looking for a PC to play games, make sure you know how to choosing the best gaming computer.
Check how to choosing the best gaming computer
1. Reliable CPU
The CPU or Central processing unit is the first thing to consider when choosing a PC for gaming purposes. CPU has a very vital role in data processing and this will be necessary in games. When choosing a CPU, you should make sure your PC uses at least a 9th generation Intel® Core i5 CPU.
Another option can be AMD Ryzen 3rd generation. For budget savings, you can also use a fullset with CPU capacity with Intel® Core i7 or AMD Ryzen 5th generation.
2. Big RAM
RAM or Random access memory is an important component on a PC. RAM functions in data processing when the PC is running software such as games. The greater the memory capacity, the better the PC performance will be. Choosing RAM on a PC of this type should be planned in advance.
If only for gaming needs, a PC with 8 GB of RAM is sufficient. But if it's for Vloggers, you should choose a larger capacity.
To get a more attractive appearance for PC gaming for professional use or Vloggers, you can also add a PC Case such as the Cobalt CGX PC Case from fantech.id. This case provides a better look, while also securing the device on the PC.
3. Powerful GPU
GPU or Graphics processing unit is a single chip processor that functions to manage and improve video and graphics performance. Game software requires high video and graphics performance. To support smooth play in games, a better GPU is needed.
The GPU that gamers usually use is the NVIDIA RTX or AMD Radeon RX GPU. You can choose the most suitable type of GPU if you are using an assembled gaming PC.
4. Use SSD
SSD or Solid-state drive is a storage device used in PCs as part of a new generation of equipment. This SSD uses memory with basic flash technology that can work faster. This SSD is used to speed up computers with low read access times and faster throughput. For a gaming PC, you will need an SSD with a capacity of at least 256 GB.
With a large SSD capacity, you can install some of the latest games and play smoothly.
5. Adequate Motherboard and Power Supply
This motherboard is a circuit board that serves to unite all the components on a PC. Some important components such as CPU, GPU, RAM, SSD and others will be enabled through the motherboard.
In addition, it also provides sockets to support your PC needs, such as audio, display, USB and others. This power supply is part of the PC casing that is used to distribute electricity.